Mes images existent dans un mode combinatoire – dessin-peinture-objet-images –
Représentations d'objets et de situations d'inachèvement.
Du dessin et des traces d'un travail de peinture.
L'espace du banal et de l'intime se mêle avec l'espace de la création artistique.
Les dédoublements générés par l'impression, la multiplication mettent à distance les révélations directes d'un état d'inaboutissement muet.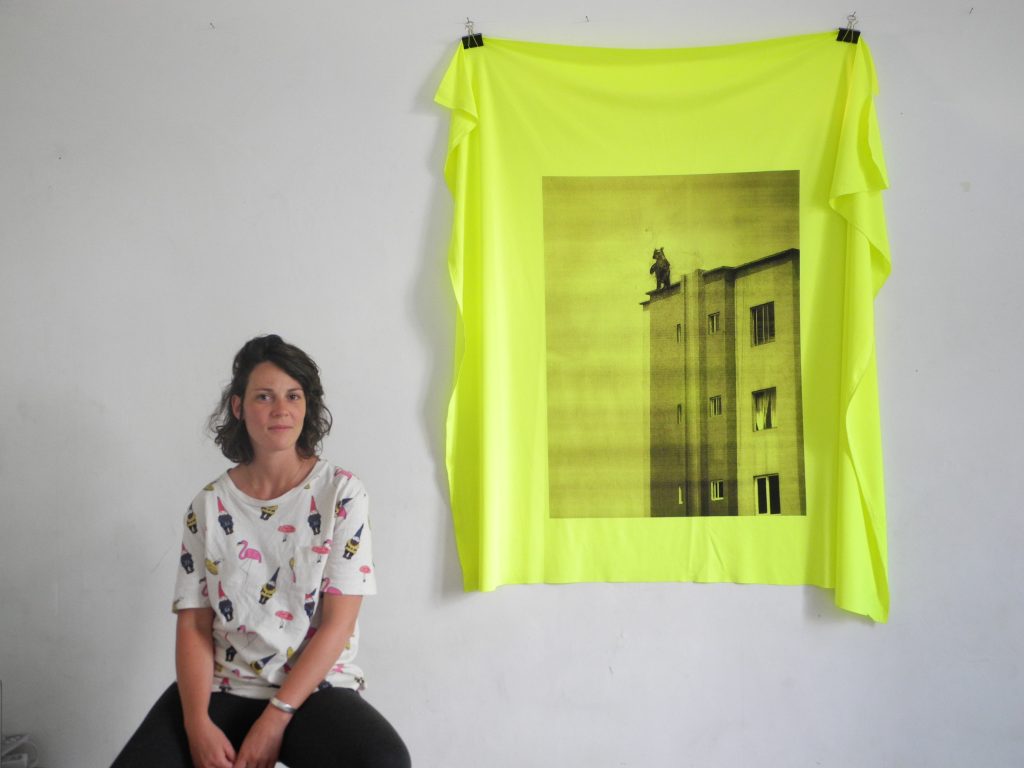 DNSEP, Villa Arson, Nice, 2010
Formations
2005-2010: DNSEP, École Nationale Supérieure d'Art de Nice, Villa Arson.
2008 : La Cambre, Bruxelles.
2010-2013: Formations aux Ateliers de la Mairie de Paris en typographie au plomb, gravure tailles douces
Expositions
2019
– Des loups-garous de l'esprit, Le 22, Nice
– Street art, une proposition de Camila Oliveira Fairclought et Elsa Werth, Paris
– Listen to the Moon, Edcat art-edition catalog, Scéances matérialistes, Marseille
Too many records, More projects, Art-O-Rama, Marseille
Romances sans paroles, exposition personelle à l'Hôtel du Pont Royal, commissariat Olivia Peter Desterac, Paris
Commande publique École Fontenay, Nogent/Marne
2018
– Notes for a shell, commissariat de Sergio Verastegui et Jordi Antas, Marseille
– La chaise vide, commissariat de Damien Guggenheim et Pierre Tectin, Villa Belleville, Paris
– Intoto, Com. Thomas Fougeirol, Pepo Salazar et Julien Carreyn, Fondation Ricard, Paris
– Collection Gazette et Yvette, Hôtel de l'Industrie, Paris
– Téléphone arabe, à Visarte.Vaud, Lausanne
– Curator exquis, commissariat Margaux Bonopera, Greylight Projects, Bruxelles
– Fantômas, sur une proposition de Dominique Kalifa, Bilipo, Paris
2017
– Cartons Pleins, MORE Projects, Saint Ouen
– Notes for a shell, commissariat de Sergio Verastegui et Tiago de Abreu Pinto, Marseille
– The dose makes the poison, commissariat de Margaux Bonopera, The Caroussel, London
– Puras cosas nuevas, commissariat de Violeta Horcasitas, Pantalla Blanca, Mexico City
– Festival Hors-Pistes «Traversées», commissariat de Louise Hémon y Emilie Rousset, Centre Pompidou, Paris
– The plates of the present, So far, commissariat de Thomas Fougeirol et Jo-ey Tang. Galerie Praz Delavallade, Paris
2016
– Cruelle énigme, commissariat de Margaux Bonopera. MORE projects, Paris
– MATERIAL ART FAIR, Casa Imelda, commissariat de Jorge Juan Moyano, Mexico City
– The plates of the present, photogram project, commissariat de Sonel Breslav, Baxter St, New York
2015
– Odradek, Montreuil. Commissariat Flora Katz et Mikaela Assolent.
– Por una fiesta mejor, Mexico City. Commissariat Violeta Horcasitas.
– Circuito Xochimilco, Oaxaca.
– Manifold Mapping, Casa Imelda. Commissariat Nika Chilewitch.
– Que se te multiplique, Mercado de la Lagunilla. Commissariat MJ Lopez.
– Circuit OFF Material ART FAIR, Mexico City
2014:
– Le mouvement des sirènes, Celsius, Paris
– CARAVANA NEGRA, Alliance française Buenos Aires, Institut français.
– Si nous continuons à nous parler le même langage, nous allons reproduire la même histoire, Chez Treize,
Le Commissariat, Paris. Commissariat de Flora Katz et Mikaela Assolent.